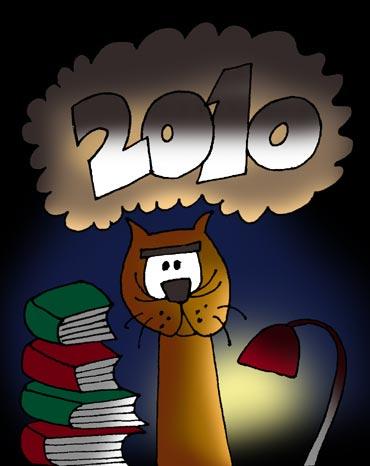 With the CAT just about 2 months away, IIM alumnus and author Sidharth Balakrishna shares advice on prep and strategy. Illustration Uttam Ghosh/Rediff.com
The CAT exam is now just around the corner and candidates have started preparing in earnest. Some are apprehensive about how to complete their preparation, given that the dates for the CAT exam have been advanced this year (October 27- November 23).
So how can you go about your preparation over the last few months and weeks? Here are some tips:
Right now, for early September, candidates should do the following:
Read at least 5-6 articles daily, preferably within 30 minutes or so. You should make sure that there is sufficient variety in what you read since the passages can be on any subject -- history, geography, sociology, philosophy, psychology, literature, business/ economics, politics etc.

Learn around 10-15 new words/ idioms/ phrases each day and revise these till you know the meaning and understand the context in which these words are used.

Practice verbal ability (grammar etc) for at least 20 minutes daily.

For Quant, attempt 25-30 questions daily that cover algebra, arithmetic, geometry, mensuration, speed-time-distance questions, etc.

Do around 3-4 Data Interpretation sets daily and about 8-10 Logical Reasoning questions.

Look through past CAT papers to understand the nature of questions that could appear in the exam
In September:
Start taking regular practice tests/ mock tests, first section-wise and then full-length practice tests. This should be done both at home with pen-and-paper as well as computer-based tests.

I would recommend taking not more than 3 tests a week, to avoid fatigue/ burn out.

You should carefully analyse your performance and scores in the tests and try to assess the areas in which you score well or are weak. For example, within the Quantitative Ability section, you may be doing well with algebra-based questions, but struggling with geometry problems. There is still time for you to improve on your weaknesses, and you should continue to attempt to do so.

At the same time as taking tests, you should not forget to practice to improve your general ability in all three sections of the CAT.

By the end of September, your should have a strategy in place. Which are the type of questions you will definitely attempt and which you may leave? Which section will you attempt first? You should look at deciding on such aspects.
By October
You should fine-tune your test-taking strategy, such as which section you plan to attempt at first (if you have any such preference) etc.

You should try out this test-taking strategy in mock tests at least two or three times before the actual exam.
In the last 15 days:
This period should be for revision of concepts across Verbal Ability, Quant, DI & Analytical Reasoning.

You need to continue taking mock tests.
Last 3 days:
Decrease your hours of work to avoid burn out.

Concentrate on practicing a few questions and quick revisions.
The author, an alumnus of IIM Calcutta, is an MBA preparation expert and has been involved in MBA coaching for almost six years. He has written 'An Introduction to CAT-Tips from an IIM Alumnus' published by Pearson Education as well as several articles for reputed publications. He has also held seminars across the country and can be contacted at: bsiddharth_2001@yahoo.co.in.