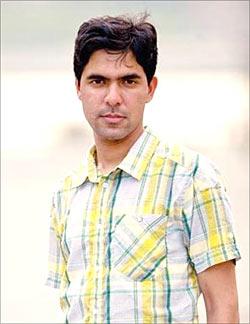 The University of Wales's prestigious Dylan Thomas Prize has announced its 2010 long list of 16 literary works, which include poetry collections, novels and a play.
And one of those 16 up for the award is Indian Karan Mahajan, whose debut novel Family Planning is set in New Delhi! The New York-based Mahajan, who grew up in New Delhi, earlier won the Rs 1 lakh Joseph Henry Jackson Award for the same book.
Family Planning tells the tale of Rakesh Ahuja, father of 13, and his eldest son Arjun. The book has been praised for its rich sense of humour, as well as for its sensitivity.
The annual Dylan Thomas Prize is one of the largest and most prestigious awards specifically designed for young writers, and is open to any published writer in the English language under the age of thirty. The winner takes home a prize of more than Rs 21 lakhs.
University of Wales Dylan Thomas Prize founder, Professor Peter Stead, said in a statement: "The calibre of these sixteen works is outstanding. This unique Prize was established to celebrate young, talented writers worldwide and these works aptly showcase the excellence of creative writing that exists across the entire English-speaking world. This award honours a truly great writer who died while still a young man and I am sure it will be a great encouragement to talented young writers everywhere."
Others up for the prize include English poet Caroline Bird, 23, who was also shortlisted for the Dylan Thomas Prize in 2008. 27-year-old US Army Ranger Johnny Meyer is the first ever playwright to make the Prize's longlist, with American Volunteers, his play based on firsthand experiences in Afghanistan. And Nadifa Mohamed, Somalia-origin British author, made the longlist for her novel Black Mamba Boy, which draws heavily from her father's life story.