Everyone talks about India's youth; the estimated half a billion Young Indians under the age of 30.
Be it politicians mulling over their election strategies, consumer goods companies focusing on increasing their sales, or ministers launching a $35 computer -- everyone wants to cash in on India's demographic dividend.
How exactly does Young India Earn, Spend and Save?
Rediff.com launches a weekly series that will provide insights into how Young India lives.
We will speak to Young Indians across the country about how they earn, spend and save, their ambitions, their dreams, and their goals.
Meet Aakash Sharma, a Mumbai resident and call centre employee:
---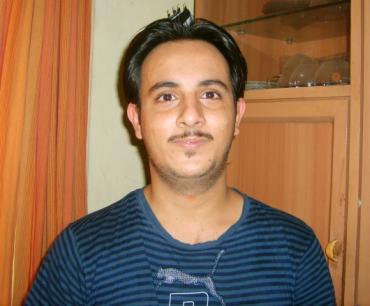 'I always knew I had better days in store'
Growing up in a joint family -- with his grandfather (who passed away last year), grandmother, two uncles and their families, in a two-bedroom apartment in Malad, a north-west Mumbai suburb, Aakash was taught the importance of sharing amongst his siblings, so deeply rooted in Indian culture.
His family, a typical middle class Marwari household, also taught him how important it was to save a part of what is earned. His upbringing has held Aakash in god stead.
Now that he has got a full-time job with a reputed call centre, 21-year-old Aakash is prepared to carve out his future.
Aakash's career began as soon as he passed out of Class 10 in 2005. An independent-minded young boy -- a trait so common in India's youth these days -- he wanted to rustle (he calls it Jugaad) up money for college on his own without putting too much financial pressure on his parents.
His first job helped him earn Rs 1,500 in three days (Rs 500 per day) as he enrolled with a company that helped young college kids work with event management companies. Working for almost two years in event management helped Aakash not only take care of his college fees -- he saved almost 90 per cent of his earnings; he spent the rest on clothes -- but also helped him communicate better and get over his fear of speaking English.
Aakash, who has just appeared for his final year Bachelor of Management Studies examination, works as a senior customer service executive at the call centre. While he started on daily wages at the event management company he now earns Rs 185,000 annually in his new job, even as he awaits his BMS results.
"I always knew I had better days in store for my career. This is just the beginning and I have a long way to go," he says.
Ask what he will do with the money and he says, "I will save at least 80 per cent of what I am earning. For my future studies as well as for my younger sister's education."
From a gross monthly salary of around Rs 15,000 Aakash gets Rs 13,000 in hand after the statutory salary deductions.
Aakash wants to get an MBA in either marketing or HR from a good Mumbai college five years from now when he would have saved enough money.
As for his expenses, he wants to own an O2 mobile phone two years later, that is likely to set him back by between Rs 12,000 to Rs 15,000. He currently owns a rugged Nokia cell phone that his father gifted him two years ago.
Going out with friends to restaurants and movies account for his other expenses.
Some day he plans to buy a one-bedroom apartment in northwest Mumbai, acknowledging that moving south of Malad would be improbable given the enormous cost of housing in the city.
For this he has set 2016 as the deadline.
"I have always scored a first class. But in my TY BMS exam I am confident of a distinction," he adds.
This confidence -- another trait so common among India's youth these days -- arises from his efforts while preparing for the exam, studying daily for more than four hours in the two months preceding the academic test.
-- As told to Prasanna D Zore
If you would like to participate in this series, please do e-mail getahead@rediff.co.in with your name, age and contact information. Also, do let us know why you think your story needs to be told.