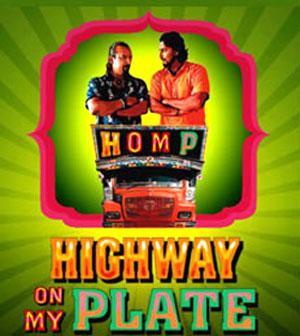 Rocky Singh and Mayur Sharma have become household names with their television show, Highway on my Plate. Abhilasha Ojha reports. Photograph: Courtesy NDTV Good Times
Their show appears daily on NDTV Good Times. On the face of it, here are two middle-aged guys with an undeniable camaraderie, seasoned by a distinct brand of irrepressible, hot-off-the-presses humour that's enjoyable if not intellectual. But there's more to the show than would be immediately apparent. The two travel the length and breadth of India (and have also now "gone foreign") hosting their food show, which will complete 100 episodes in April 2010.
So just who are Rocky and Mayur? We'll get back to their respective stories in just a while, but first a brief on Highway On My Plate. For the uninitiated, it's a 30-minute show that offers information (and then some) about Indian 'street' food, both on and off the highways. It's gone global only recently, with Rocky and Mayur travelling to places like Singapore, Mauritius, Malaysia, Sri Lanka, to name a few. Highway On My Plate has been running successfully for the past two-and-a-half years and it comes as no surprise that on the Internet, too, fan clubs are sprouting. On Facebook, for instance, there are six different fan clubs, where people are calling the anchors "super travellers, food critics, poets, 'n' entertainers".
By the time we meet Rocky Singh (40) and Mayur Sharma (39) at a local Costa Coffee outlet on a crisp spring morning in New Delhi, one thing is clear; the camaraderie between the two is not only palpable, it's also infectious. The two have known each other since they were toddlers growing up in Delhi's tony Uday Park neighbourhood. "We have been neighbours since 1976," says Rocky, while Mayur interjects playfully, "Yes, he (Rocky) used to bully everyone but me."
The two are die-hard Delhi boys. Mayur studied garment manufacturing at the National Institute of Fashion Technology (NIFT) because "I decided to avoid being in the real world". Rocky, a commerce graduate, tried his hand at various business models. "From having a fuel distributorship to opening a restaurant, which still exists in East Delhi, to working with British Airways and KLM, to being CEO of a headhunting company in Miami, I've done the rounds...and also toured India in my Sumo."
Interestingly, what prompted them to take a break from their 'regular' careers was their love of travelling. Mayur, who was successfully working for a Hong Kong-based garment company, decided to "chuck everything and go to Mount Kilimanjaro". He used up all his savings and backpacked across Africa, Asia, South America and Sri Lanka. In Sri Lanka, he set up an aid company where he persuaded his friends from all over the world to send funds for tsunami victims. Today, both Rocky and Mayur, apart from hosting Highway On My Plate, Rocky and Mayur Go Foreign and Jai Hind (also on NDTV Good Times), are business partners in a corporate training company that they started in 2008. Explains Mayur: "We teach business theory while using the outdoors as a classroom."
And just how did this foray into TV happen? They were referred to the channel by a common friend. "The pilot episode," they say, "was the worst experience. We just needed to be ourselves." "That wasn't possible when I was reading from a script and using sentences like 'delicate flavouring'," adds Rocky. But as good luck would have it, the show's director Monica Narula let the duo be themselves.
What, according to them, is the reason for the show's success? "It's an honest show and the fact that we're not clones makes people happy. We never have a script, we don't prepare gags, it's all impromptu. We pick a route, reach the destination, and ask rickshaw wallahs, cab drivers, hotel owners about the places in their respective cities where good food is available. All these elements contribute to the show's success."
But its not all fun and games. The schedules are hectic, often gruelling, involving long hours on the road, shooting for 12 or 13 hours at a stretch. Once they were on the road for 28 days, travelling the route from Delhi to Chennai, shooting non-stop. This means that they are both away from home for extended periods. "My daughter is a year old now and yes, I miss being with her," confesses Mayur. "But we both love food -- Mayur is a vegetarian and I can't stand the stuff -- so there's plenty of diversity right there. Besides, discovering the diverse food of India is a lifetime's work," adds Rocky.
Managing their corporate training company and doing three television shows, what else is the duo planning? Mayur is training overtime to prepare for a trek to the base camp of Mt Everest, while Rocky is catching up on his reading, writing and spending time with his two children. But food remains an integral ingredient of their lives, as Rocky clarifies -- "You see, we take big bites out of life." Touché.