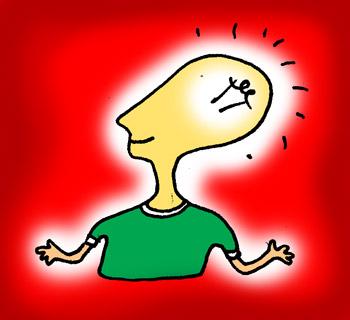 When it comes to ideas that can be converted into entrepreneurial ventures, children can be more creative than adults finds the SIES Clinic. Pravda Godbole finds out more. Illustration: Dominic Xavier/Rediff.com

Whoever said only adults can be entrepreneurs? SIES Clinic, founded by two professors, is out to prove them wrong. SIES Clinic, which stands for Start-up, Innovation, Entrepreneurship and Strategy Clinic, encourages children to throw up ideas that can be turned into successful business ventures.

"Children are more creative than adults and can come up with revolutionary ideas that have potential to be converted into sound business plans," said Manoj Joshi, co-founder of SIES Clinic. "We encourage kids to be free thinking and to suggest whatever they feel like." Joshi is a professor of strategy, entrepreneurship and innovation at a private educational institution in Lucknow.

Close to 15 ideas have already been identified by different entrepreneurs and listed on the website of the clinic, among them retail chains selling organic vegetables, branded fresh-cut fruit and the like. Adults are also encouraged to contribute ideas. The website is an open domain where anyone can log on, post ideas and track them.

SIES Clinic welcomes two types of ideas -- those from children below 18, called 'kids' ideas', and those from the rest of the population ('mature ideas'). Once an idea is thrown up, the clinic either approves or rejects it, depending on its economic feasibility. A search for entrepreneurs is then conducted to take up approved ideas, with the clinic extending a helping hand.

"We aim to aid budding entrepreneurs to pick up our ideas and help them by finding investors and mentoring them," co-founder Anil Sharma, who is professor of financial engineering at the same institute, said.

Joshi and Sharma have two children aged seven and 14 respectively, and it all started two years ago when they were taken aback by some of the ideas the children tossed up, such as creation of a food pool to be later distributed among under-privileged sections.

The duo is clear about how they wish to run the enterprise. "We will provide entrepreneurs with complete solutions around their activity, but money is a pre-requisite for running it. SIES Clinic will raise the required money through consultancy services, executive training and general training programmes. Profit will not be the main criteria but any incoming finance will come in handy," says Sharma.
The website lists many novel ideas given by children -- online ordering of school books and recording of everyday class proceedings in schools to be made available on demand, among other things.
SIES Clinic, which started out in Lucknow, now plans to expand to Delhi, NCR and Uttar Pradesh in six more months. It will later look eastwards to Bihar and Orissa.