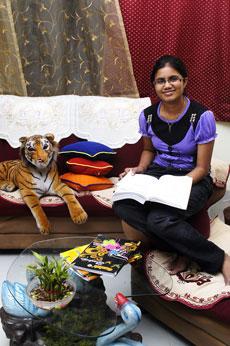 Nidhi Modani topped the Common Law Admission Test in 2009. Here she shares her success mantras with Nitin Jindal.
Nidhi is currently pursuing her first year of LLB at the National Law School, Bangalore, which she considers to be the "best institute". Nidhi was a commerce student at Apeejay School, Noida, where debating was a regular pursuit and,arguing, much to the despair of her teachers, was a passion!
Before getting into law did you also consider other options such as CA and CS?
I was thinking about doing CA in Class 11 but once I entered Class 12, I was pretty sure by June, that law is the only thing I wanted to do. I talked to many people around me, and found it interesting and challenging and this is very important for me. I also liked the kind of studies that were involved in the preparation for a career in law.
Are you fond of arguing?
Yes, very much. I have even participated in a lot of debates. Not that I won many accolades in the same but I just like arguing. I guess some of my school teachers even hate me for it.
When did you start your preparation for CLAT?
I took the correspondence course from Law School Tutorials. I got the study material from here and took mock tests but did not attend class, while I was in Class 12. My real preparation began in April 2009. Since I did not push myself for the exam all year through, I had to do it for the last two months. I studied for more than 12 hours a day.
Any preparation before your Class 12 board exam?
Yes, I gave the entire series of mock exams from LST. My performance wasn't too great. But I wasn't too worried because I knew I hadn't really prepared myself at that time. So it was just about giving the exam and knowing what kind of questions to expect and how to prepare for them and developing an understanding of what you really had to do.
Anything you did earlier that helped you during your preparation?
The fact that during Class 12, I gave myself the entire year to understand what exactly to study. So, by the end of the academic year, I was very clear about which books to refer to, what not to study, etc. It really helps if you have a clear idea of what exactly you have to do in those two months. I wasn't at all confused as to what to do. For instance, I referred to the LST material, Competition Success Review and the Universal Guide, which helped me and also read the newspapers regularly which helped a lot. I think any newspaper would help you as long as you really read it properly and daily.
Which sections did you read regularly?
GK is important as well as current affairs. The questions can be based on anything, so I feel that it is important to read all sections.
Your preparation days?
I could not have done it without the help of my parents. I needed an environment of solitude, no disturbances at all, and that's what my parents ensured -- that no one would disturb me. My sister would wake up early morning, cook a packet of Maggi for me. My mantra for success: Focus and work hard. My mother always inspired me to work hard.
Did you find any sections in the paper tough?
To be frank it was easier than what I expected. I also gave the National Law School, Delhi examination but CLAT was much easier.
What would you have done had you not cracked the CLAT?
I would have pursued CA as I love accountancy. However, I chose law over CA because I love challenges, and for me, CA meant the easier and more conventional option.
Photograph: Rajesh Thakur/Outlook Group